The preparation for 2019 election is heating up. Here are some key trends
a. NDA partners are getting nervous
b. Non-Congress opposition parties are talking to each other
c. Anti-corruption moves against the opposition and specifically Congress have picked up significantly
Looking at various data sources and publicly available polls, it is clear that 2019 election will be fought in rural India. Let me illustrate this point with 3 charts
Agriculture GVA growth versus Rest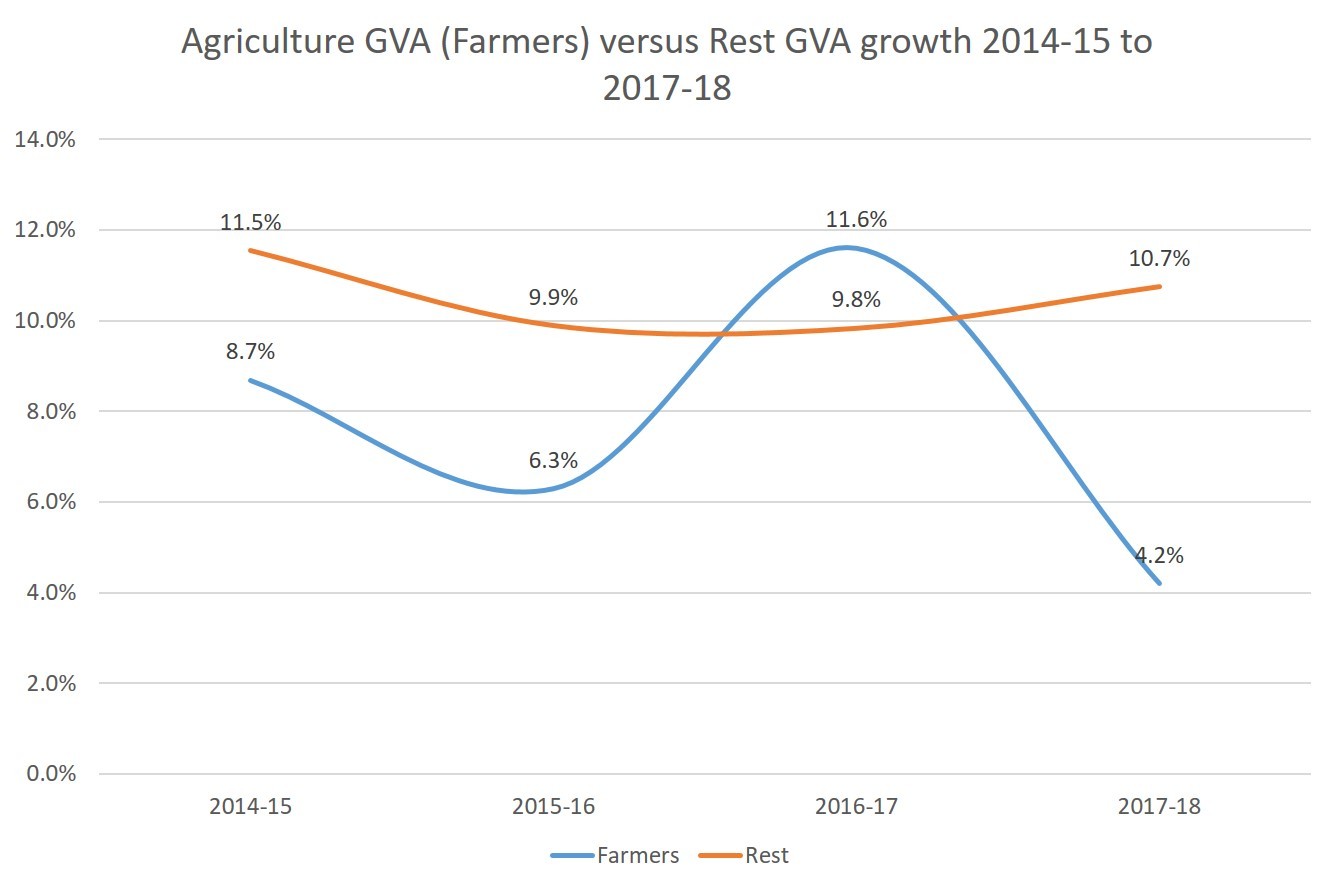 Look at the volatility of Farmer Incomes versus rest - a range of 4.2% to 11.6% in case of farmers versus 9.8% to 11.5% for the rest. Now, in a country like India, this has been the case for probably hundreds of years. However, this also opens up these voters to more volatile voting patterns as well. This explains why rural voters in Gujarat voted against their Government and it is likely such anti-incumbency exists in every State across the country, irrespective of which party is in power.
Agriculture Income versus Rest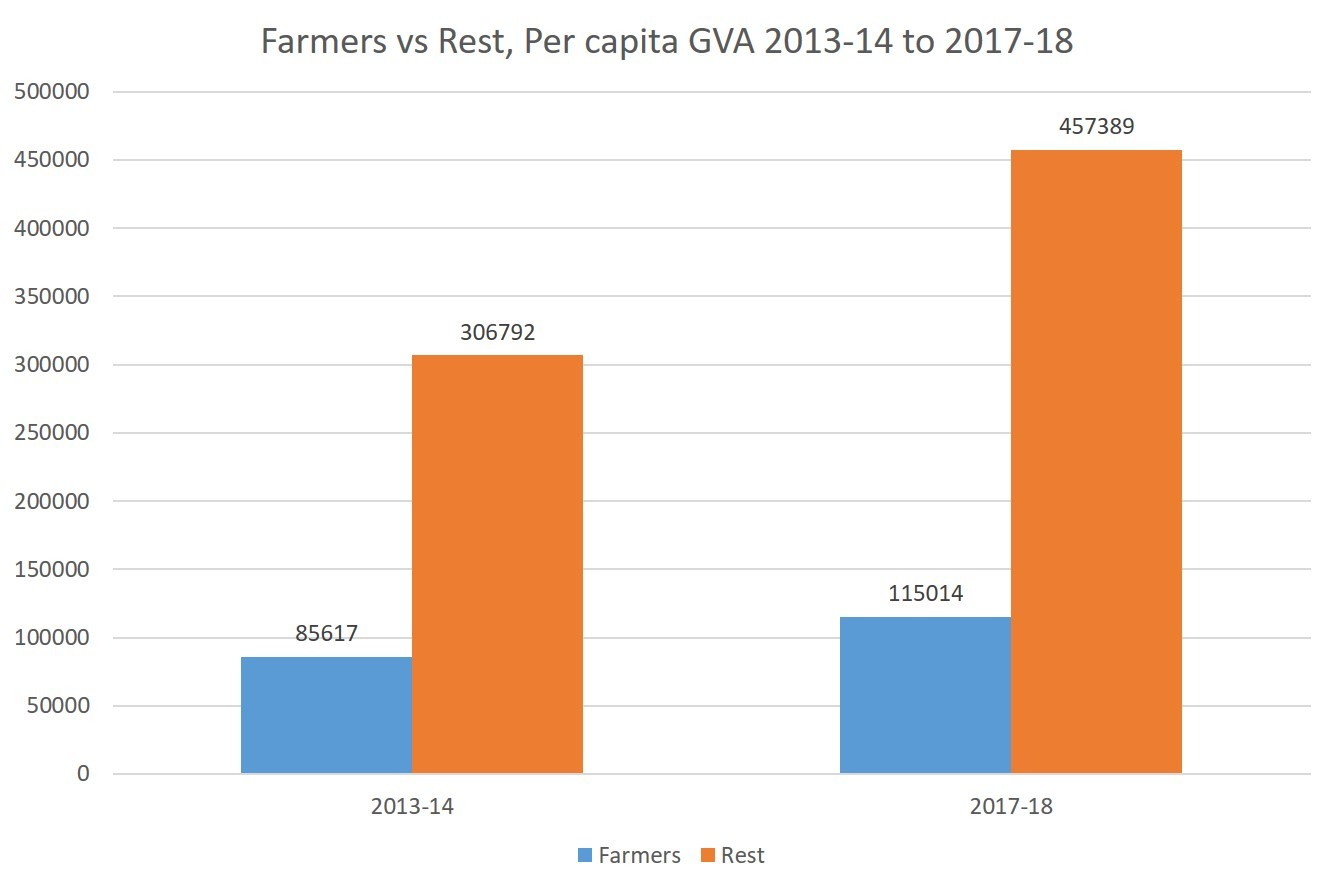 If one were to convert GVA to per capita GVA (a surrogate for Income), we would notice that per capita GVA has gone up only Rs 0.3 lakhs for farmers while for rest of the population it has gone up Rs 1.5 lakhs. That also explains why urban voters complain little when it comes to Mr Modi. It also means that any anti-urban moves by the opposition are unlikely to damage their already small voting base in urban India
Gap between Farmers and Rest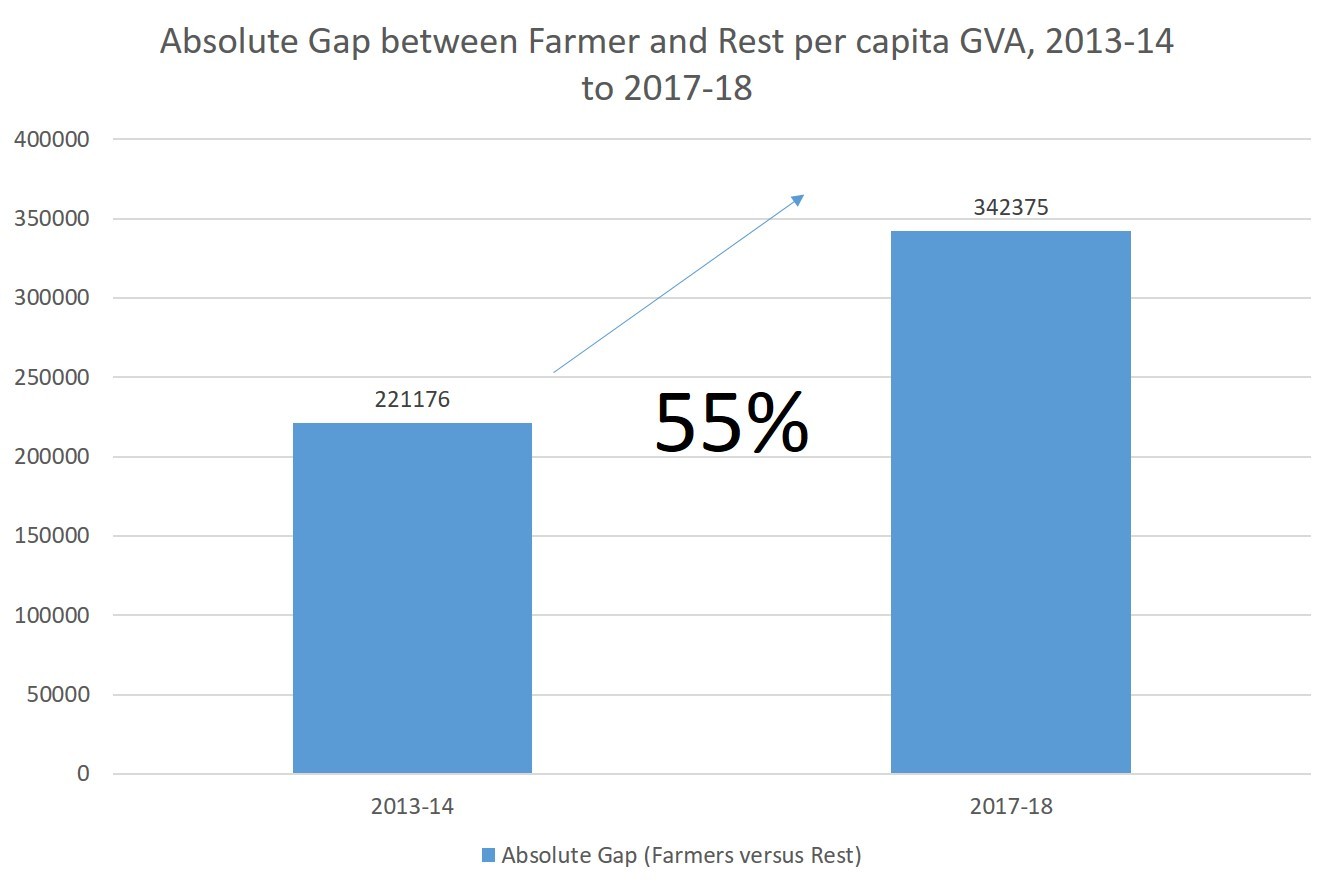 Another way to look at the second chart is look at the gap between Farmers and rest. That gap has increased an incredible 55% in just 4 years
The centre and that states are already spending massive amounts of money on rural India. What we know is that rural economy seems to have recovered this year (sale of low end bikes for example). However, it is unclear if it is the Farmers or the other rural folk in the states who seem to be doing better this year. A separate analysis is needed for that. One recent analysis I had done in Odisha suggested that in spite of lower agriculture growth, Odisha was doing better than MP in the rural areas. However, it was unclear if it was due to remittances or if it was non-farm work in the village. Whatever, it is, as far as the opposition is concerned, between Urban India and Rural India, they have no choice but to target rural India. Within rural India, the target will have to be Farmers.
Why National Loan Waiver is the only option
Agriculture and Allied loans make up for about 9 lakh crores in bank loans. Add cooperative and RRB loans and this will add upto about 12 lakh crores. This would mean about Rs 50000 per Farmer. In 2015-16, my estimate is that Governments spent Rs 7.5 lakh crores in rural India. So a collaborative effort by States and Centre can easily waive this Rs 50000 amount in three years time. This is the most viable option for the opposition. I am not getting into the ethics of this, just merely stating what can be done and why. The fact is that even a 10% swing amongst farmers will deliver a 5% swing in favor of the opposition.
This could lead to a loss of about 50-60 seats leaving the BJP precariously at 225 seats and tough alliance negotiations.
It is unlikely to have a huge negative impact in the cities as opposition presence in many cities is negligible. The BJP will have to counter this plan with its own reward scheme which probably will be more direct cash transfers to Farmers. The Telangana Farm cash transfer which is about Rs 12000 this year is also a good counter. It is possible that the opposition may choose this option instead of Farm Loan Waiver.
Either way, the next election will be fought in rural India while BJP will aggressively attempt to mobilize urban voters to the booth, the opposition will do the same for rural voters. 2019 will be another fascinating election.
-SC